Lawn Sprinkler Maintenance Lakeshore Ont.
by Thirsty Turf Irrigation Inc.
Thirsty Turf Irrigation Inc. is a lawn sprinkler service company that specializes in high-quality lawn sprinkler system installation services, repair and maintenance. We cater to the needs of residential & commercial lawn sprinkler systems of all Lakeshore Ontario areas. We also offer convenient commercial services to clients that are looking to manage their commercial irrigation system needs. If you want to keep your lawn sprinkler system in tiptop shape all year long, Thirsty Turf can accommodate your needs. If you're searching for assistance with lawn sprinkler repairs locals in Lakeshore you can trust in, we can take excellent care of you and your irrigation system and you can save on utility costs.
Convenient Options for Lawn Sprinkler Services Lakeshore
We give customers access to a broad range of services. We offer lawn sprinkler performance audits that can keep all problems, of all types in check. We specialize in lawn sprinkler preventative maintenance work that can stop issues from popping up in the first place. We find this pro-active approach to lawn sprinkler system maintenance saves money, water and your lawn all at the same time. We can help you take care of all kinds of irrigation concerns from brown spots, to broken sprinkler heads. It doesn't matter if your irrigation issue is severe or if it's on the smaller side, we will take care of it and your lush green lawn.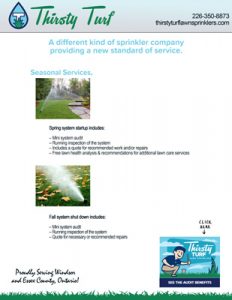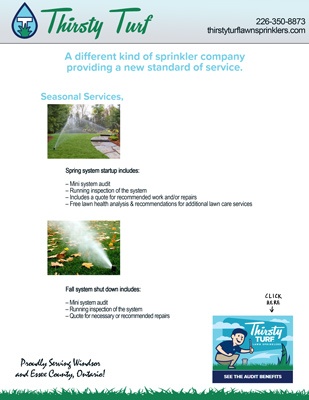 We conduct in-depth system audits that are suitable and love the fact that we are doing our part to be more sustainable with little to no water waste. We perform spring startups and assessments. We even offer comprehensive assessments in the middle of the season. These inspections can help people pick up on any signs of issues. Customers happily turn to us for system shutdowns for the autumn months, too. Our fall system shutdowns are perfect for people who are interested in system audits and inspections. If you receive a fall system shutdown from Thirsty Turf, we'll give you a quote in the event that you require repair work. As you can see our seasonal services that keep you running smooth all year.
Why You Should Always Choose Thirsty Turf
Thirsty Turf is a local lawn sprinkler company that has an outstanding reputation in the lawn care world. Our team members are skilled, seasoned and capable lawn care specialists who always have our customers' best interests at heart. We meticulously assess lawns in order to figure out which actions are most appropriate for them. Our number one goal as a company is to help you attain and maintain a lawn that's 100 percent healthy and beautiful. An unhealthy and neglected lawn is hardly enviable. Our lawn sprinkler maintenance work is detail-oriented and attentive. Our lawn sprinkler repair work is efficient and just as strong in quality. When you need irrigation repair work that can help you sleep better at night, Thirsty Turf is the solution. We offer professional assistance with lawn sprinkler services Lakeshore, Ontario can get behind.
If you're searching for the most dependable and thorough lawn sprinkler service around, you can turn to Thirsty Turf with confidence. Contact us today for more information. Contact us now to set up an audit of your lawn sprinkler system Lakeshore.
TIP TOP SHAPE
Tip Top Service
Call Thirsty Turf to schedule your system audit today and experience the difference attention to detail makes!