Lawn sprinkler system Installation
What to expect from a Thirsty Turf Smart Irrigation System;
With any new lawn sprinkler system from Thirsty Turf Inc, you should expect only the best new and proven technology.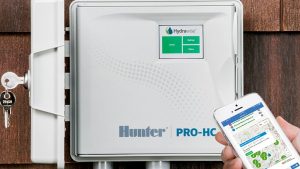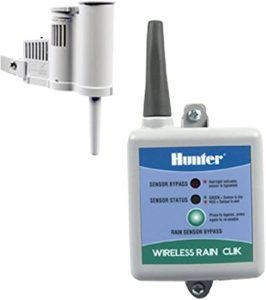 Nozzles:
We use specific Hunter MP Rotary nozzles on all areas that require sprays. These nozzles are installed on Rain Bird SAM PRS spray bodies which regulate the pressure to the nozzle, resulting in a huge $ savings in water use.  In some cases, entire systems can be designed using exclusively MP Rotators.  This depends on the size of the layout.   These use much less water and take the place of the older technology like Rain Bird MPR sprays which used 3x the water.  You will see these MPR types of nozzles in flowerbeds, boulevards, narrow turf areas, often emitting a fog or heavy mist and they are no longer considered acceptable by many areas.
There is no mist or fog from a newer more efficient MP Rotator nozzle, rather a steady rotating set of streams and larger droplets all making it to the soil and penetrating evenly and effectively right to the roots where its needed most.  Here is an illustration of this: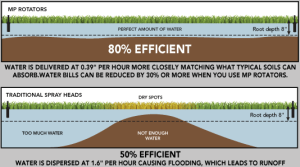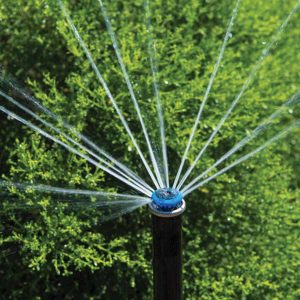 Watch this short Hunter Video about the MP Rotator high efficiency rotary spray nozzles.

Rotors:
When it comes to the open turf areas, its no question that a RAIN BIRD 5000+ series rotor is king.  These rotors are tough, accurate and durable.  They come equipped with 2 options, a PRS pressure regulating stem or just a SAM seal-a-matic check valve.  These rotors stand up to sandy soils and heavy wear and tear for the life of the system.
PRS regulates the water pressure passing through the rotor so that the output nozzle is operating within its normal range of recommended pressure.  This saves on water use dramatically in areas where municipal water pressure is higher than 55-60psi.
SAM is a check valve installed in the bottom of the rotor case.  If we take a garden hose for example and put one end at the low end of a hill and open the end, what happens? The water escapes.  With SAM, even the lowest or last sprinkler head in the line will not allow the water in the sprinkler plumbing to escape each time the system is shut down.  This keeps the underground plumbing mostly full at all times and requires less refill when the system re-starts.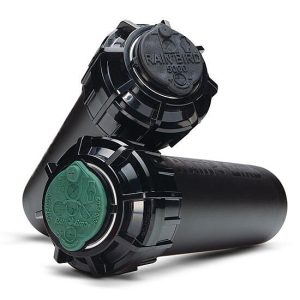 Please watch this short video about SAM and PRS equipped devices.
Spray Bodies
The Rain Bird 1800 Series is our preference when equipped with SAM and PRS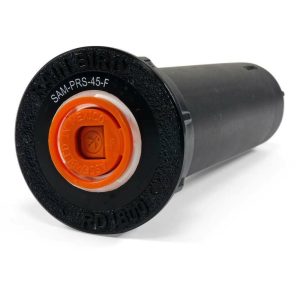 This is the #1 Irrigation Spray Head in the World
Installed in parks and backyards across the globe, Rain Bird's 1800 Series is the #1 commercial-grade irrigation spray head brand in the world.  Chosen for its reliability, heavy-duty materials, and versatility, the 1800 Series offers a broad selection of pop up heights and nozzle combinations for watering shrubs, small lawns, and irregularly shaped planting areas.
All models feature Rain Bird's patented pop-up mechanism with heavy-duty stainless steel spring for dependable out-of-sight retraction, plus an exclusive co-molded wiper seal for unmatched resistance to grit, pressure, and extreme environments.
The Perfect Pair for Pressure Regulation
Rain Bird's pressure-regulating stem (PRS) saves up to a gallon of water per minute.
Perfectly paired combinations of PRS spray bodies and MP rotator high-efficiency nozzles make for an excellent water wise design.  Each pair is designed to work together to give you the best possible performance across your entire irrigation system — all while saving tons of water.
Smart Controllers
When it comes to controllers, we prefer the Hunter Pro-HC Hydrawise wi-fi smart controller.  We install a wireless rain sensor to eliminate waste during rainfall in the middle of the night when your system is set to run. A smart controller is the best option that you can control from a remote location via your smartphone.
Either way you are sure to get a quality product that meets your needs, we guarantee it, and your lawn & landscape will love it!
Please watch this short video about the PRO HC Hydrawise controller.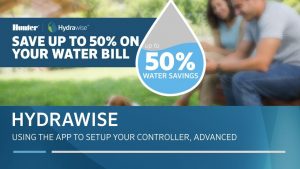 Control Valves & Manifolds
Rain Bird DV/DVF Series
Diaphragm valve – the industry leader for over 25 years
Our control valve of choice is the Rain Bird DV/DVF valve.  This is the premium valve product chosen by more professionals than any other valve on the market. Its long history of reliable performance makes it the natural choice for your landscape. Its consistent, problem-free performance means you can spend less time thinking about your irrigation system and more time enjoying your landscape.

PVC Lock Manifold Sections
Patent Pending "Push-and-Go" Design—100% tool and chemical free approach that cuts installation time in half or more.
PVC-Lock® Fittings are Chemical Free—Glue-less, tool-free installation protects the environment and the long-term health of your crew.
Patent Pending Retaining System—Stainless steel teeth grip pipe tight for a strong, leak-proof connection.
Removable & Reusable—On-site sizing adjustments are easy using the PVC-Lock removal tool.
Pressure Rated—Use on either side of the irrigation valve.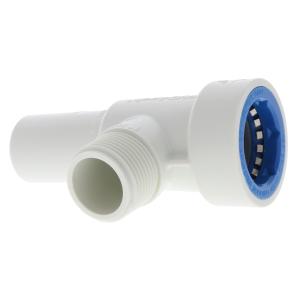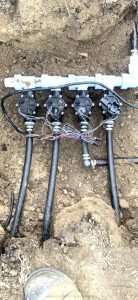 h3>Valve Boxes
We Choose Rain Bird in ground valve boxes for Strength and Stability – Multiple sizes and shapes are designed with corrugated sides and wide flange bases for maximum durability, compression strength, and stability
Smart Lid Design – Designed with no holes to keep out pests, beveled edges to minimize damage potential from turf equipment, and for easy hand and shovel access
Flexible Installations – Interlocking stacking capabilities, extension models and pipe hole knockouts support deeper and flexible installations
Environmentally Friendly – Earth‑friendly, LEED-compliant material made of 100% recycled materials (black boxes and black lids only)

Back flow Valve
Irrigation backflow preventer devices are designed for installation on potable water lines to protect against both back-siphonage and back-pressure of contaminated water from sprinkler systems into the potable water supply. Backflow assemblies provide protection where potential health hazards exist.  Our Valve of choice is Apollo.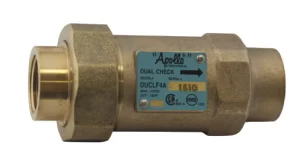 How We Install Your Piping
The use of either our Ditch Witch R300 or 100SX Vibratory Plow makes for a very tidy job during installs on existing turf.  Minimal visible damage is the key.  This unit slices a thin trench in the soil while pulling in the poly pipe behind it and closing the trench at the same time.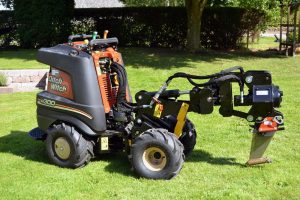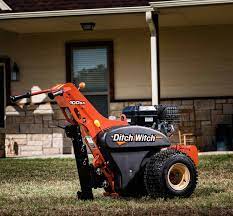 Poly Pipe & Connection Fittings
Most of the piping we use is either 3/4″ or 1″ Oil Creek poly pipe.  The size will depend on the demand of the heads and nozzles.  This tubing is rated at 100psi and has a proven track record of flexibility and durability in all conditions.  To complete the joints between the poly pipe, we use PVC barb fittings and stainless steel crimp clamps.  No shortcuts here and no leaks.


Swing Pipe & Swing Fittings
For the connections from the mainline to the head, we prefer Hunter FlexSG Tubing. This is a soft, flexible tube solution that is engineered to resist kinking and provide a reliable connection from the fitting to the sprinkler. It is what we use to build the swing joints. Its enhanced texture makes it easy to grip in wet conditions, and its low-density polyethylene material means it's built to last in harsh environments. For the most flexible, textured tubing on the market, the choice is clearly Hunter's FlexSG.  For barb connection fittings on swing, we use Rain Bird fittings.

Conductor Wire
Typically, we will use an underground 18 gauge solid conductor with 12 strands.  This allows for future expansion of the system, or repairs to damaged wiring without the need to install a new cable.  The heavier gauge also lets us run farther in the ground without limiting the voltage at the farthest valve box due to lower resistance.  Many contractors we see are simply using the bare minimum and not allowing for this.  That can be a costly mistake.

Why Install Irrigation?
Changing Climate
Higher Seasonal Demand for Water
More Manageable Lawn & Landscape
Enhances Resale Value
Climate Change is Evident!
The need for irrigation has never been greater!
If you already have irrigation installed, whether recently installed or it has been there for some time and are fighting high water bills, the time is now to upgrade and save $$$.
Compounded $avings
The savings that one of our smart irrigation systems can provide are compounded annually.  Let me explain:
Right now you are using X amount of water while running your system.  That water has an associated cost, both in and out of our homes supply and sewer.  These costs are broken down for usage and sewer charges for returned wastewater in most cases.  These can be costly in some municipalities.
If we look at even doing a simple retrofit to new pressure regulated spray bodies and MP rotator nozzles, we can cut the flow rate in half.  This means a 50% lower water use when it relates to irrigation.
If we then consider the fact that the municipal rates increase annually, and we then apply the lower usage rates from your newly updated system, for the expected life of the system (up to 15 years) we can see that the savings are larger annually, as the rates increase.  The higher the rate, the greater the savings.

If you are looking for a water wise lawn sprinkler system design, start here.
Contact Us To Book Your Service
Or Simply
ASK US A QUESTION