Lawn Sprinkler Services Kingsville
by Thirsty Turf Lawn Sprinklers Inc.
At Thirsty Turf, we are proud to provide leading service standards with our residential lawn sprinkler and seasonal maintenance services. Our lawn sprinkler service team performs audits that can save your household or business up to 50% on utility costs. We offer season long programs with several lawn sprinkler maintenance checks to ensure that everything is working most efficiently and nothing is broken or worn out.
Kingsville Lawn Sprinkler Repair Services
Commercial and residential maintenance packages
System startup in the spring including a full inspection of the irrigation system
Maintenance checkup in the middle of summer to look for irrigation repair or drainage problems
Service calls for lawn sprinkler repair
Down system fixes
Fall system checkup and system shut down service
Winterization for lawn sprinklers Kingsville
Spring System Start-Up
As a local business provider, Thirsty Turf is proud to set up or start a lawn sprinkler service for any residential or commercial client in the Windsor and Essex County areas. We begin with an in-depth look at your lawn, sprinklers, and drainage. Our goal is to find the most efficient way to water your lawn and save you money at the same time.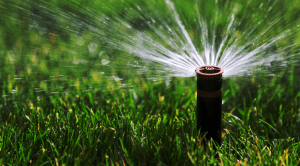 Fall Season Services
Full system inspection
Repair recommendations and routine upgrade discussion
Lawn health analysis
Additional service recommendations
In the middle of the summer, we will come to your home or office and inspect the system thoroughly to look for irrigation repair issues that need addressing or other sprinkler problems. We ensure that your lawn is in top health. We also check to see if there are areas where we can cut back watering or parts with the damage that may make the system work less efficient so that we can create cost savings.
Winter Lawn Sprinkler Shut Down
Part of our lawn sprinkler maintenance program includes coming back out in the cooler months to shut the system down and perform a winter inspection. We close up the sprinklers and drain the water to prevent freezing and damage over the cooler months. Our goal is to have your lawn ready to hibernate and come back in the spring with vigor.
Lawn Sprinkler Services by Thirsty Turf
Most of our competitors worry about getting the job done quickly so that they can get to the next customer, but that leaves plenty of room for errors. At Thirsty Turf, we provide affordable service where our time is not the issue. We perform irrigation system repair, and system maintenance at the speed the job requires without charging you excessively. You Can download this PDF of our full list of  Lawn Sprinkler Services.
Does it seem like no matter what they do to fix it, the lawn is still brown in spots?
TIP TOP SHAPE
Tip Top Service
Call Thirsty Turf to schedule your system audit today and experience the difference attention to detail makes!