Lawn Sprinkler Services & Repair Tecumseh Ontario
by Thirsty Turf Lawn Sprinklers Inc.
Excellent Sprinkler System Care for a Healthy Lawn
Lawn Sprinkler Services Tecumseh
Thirsty Turf promises excellent care for those that own lawn sprinkler systems, as they provide comprehensive seasonal maintenance packages for both homeowners and those within commercial properties. It's essential to have one's lawn sprinkler system customized for the current season, as each season brings its own special lawn care needs. Part of this personalized lawn care is having the lawn system checked multiple times throughout the year. Having an efficient lawn sprinkler system which can be updated with customized technology that helps one determine optimal watering times and even weather trends is a must. Ultimately, the landscape is healthier and the wallet less affected by using a great sprinkler system maintenance program.
Essential Services Offered, Thirsty Turf is proud to be able to offer essential services, such as:
Residential Lawn Sprinkler Service and Lawn Sprinkler Repair
Seasonal Lawn Sprinkler Maintenance packages
Lawn Sprinkler Audits
Spring system startups and inspections
Mid-season check-ups
Troubleshooting
Irrigation Repair
Service calls for systems that have errors or stop working for any reason
Shut down services for winter
Spring Lawn Sprinkler Maintenance Tecumseh
Spring system startup includes a mini system audit with the performance of an inspection of the lawn sprinkler system. Included is a quote for recommended work and repairs (if there are any required). A free lawn health analysis will be provided, as well as any future recommendations for extra lawn care by experts at Thirsty Turf Lawn Sprinklers, Tecumseh.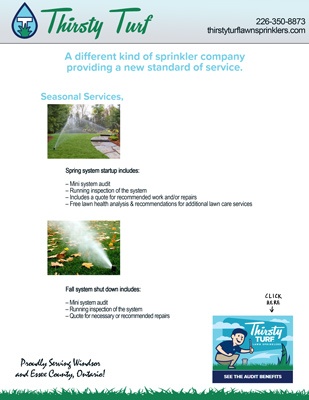 Spring system inspection is essential, as there will be many areas where damage could have occurred. There could definitely be a need for Irrigation System Repair. A lawn sprinkler system needs to be checked in the spring to make sure that no winter damage occurred. Trying to run a system with winter damage could result in further damage, and lead to leaks, burst pipes, and high utility bills.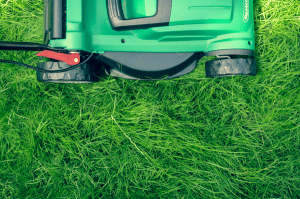 Fall lawn sprinkler system maintenance in Tecumseh, Ontario
A fall system shut down includes a running inspection of the whole lawn sprinkler system. A quote for any necessary or recommended repairs is also provided.
A fall system shut down can be considered a winterizing of the equipment. Sprinkler systems and other equipment can damage, freeze, or break when the weather goes under thirty-two degrees Fahrenheit. Even the first freeze can ultimately compromise the system, as the cold temperatures and even wind chill factors may completely freeze the soil, while homeowners are entirely unaware of the damage until they try to run their systems in the next spring.
Save Money with a lawn sprinkler System Audit!
Most other turf companies are interested only in their time spent at the site, and are mostly concerned with getting in and out as fast as possible. This can be a potential issue in the future, money wise and even regarding the health of the lawn. There are system audits  prepared to accommodate several sizes: regular (10 zones), mid-sized (15 zones) or large (15+ zones). To call and find out what can be done for the lawn health today and consult with an expert of Thirsty Turf Lawn Sprinklers Tecumseh.
Does it seem like no matter what they do to fix it, the lawn is still brown in spots?
TIP TOP SHAPE
Tip Top Service
Call Thirsty Turf to schedule your system audit today and experience the difference attention to detail makes!